Much to my delight, in 2016 I was accepted on the postgraduate performance course at Trinity Laban Conservatoire of Music and Dance in Greenwich, London with a scholarship. This is mostly thanks to my fantastic teacher, Lynton Atkinson who suggested I put and application in at the college (having been made redundant at my work and wondering what the next chapter might hold in store)! I'm glad to say that having been accepted there a term has already flown by with much accomplished to boot.
Being absent form the academic world since graduating from Royal Holloway in 2009 I was a little apprehensive to what may lie in store at the beginning of the course in September of 2016. My apprehension was of course soon forgotten as term began with a flurry of welcome lectures, introductions and concerts. From the first day there was an atmosphere of creativity, a passion for exploring new knowledge and for pushing boundaries. It was, and still is a fantastic environment to be a part of and contribute towards.
The head of the vocal department, the wonderful Linda Hirst, kicked of the term by holding an improvising workshop with Douglas Finch a member of piano department staff. Looking back at this early experience I see that it epitomises part of what Trinity Laban tries at all times to engender within their students – curiosity for learning and without worrying about failure. There was no right or wrong here, simply lots of ideas coming together. New postgrad students and pianists working together to crate new music at the very start of term and performing to each other. There were no preconceived ideas of perfection or right or wrong because all the ideas were new and original. While we study at the conservatoire we are all preparing for a professional career but this is our chance to try new things, to explore our instrument and ideas within an academic framework.
Other firsts for me have included intensive language training in Italian, German and French. I have been introduced to IPA, the International Phonetic Alphabet. This is becoming an indispensable tool to help standardise and perfect my pronunciation, although I still have quite a way to go yet!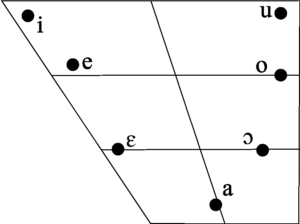 Our language classes are informative and helpful and something that was clearly missing from my training toolbox prior to staring the postgraduate course. I'm glad to finally be filling the gap in my knowledge. From information in these classes it is vital I transfer over the skills and apply to any current or new repertoire by adding translations to all my songs and IPA symbols to help with the pronunciation. In the past I have been guilty of singing in a foreign language without knowing the full meaning of the text – this is something as an aspiring professional I cannot allow to continue. It requires hard work (of course) but pays off in performance as you are more convincing and connected with the text. Embodying and connecting with the text will translate into better body language and story telling to communicate with the audience effectively.
As well as language classes we also have weekly song an performance classes taken by Lind Hirst and other professional singers. These classes are on a sign-up basis and I took part in my fair share over the term. One stand out song class was a German class taken by Richard Jackson. His passion for performance and the German repertoire is infections and his feedback was invaluable. It would be remiss of me if I forgot to mention that I am of course still with Lynton Atkinson as my primary teacher. Under his tutelage I am making strides forward with my technique and vocal timbre. I also have coaching sessions with the brilliant Anna Tilbrook who is helping me with new repertoire and preparing for the daunting professional world of opera auditions.
More exiting projects in the first term included opera scenes. As one of only a handful of men on the course I was lucky to be included in two scenes – as Tamino in The Magic Flute and Quint in The Turn of the Screw. The director for the term was the extremely talented and informed Julia Hollander. Her insights into both scenes were invaluable and I believe we pulled off a successful production with a taster of the event below.
I successfully auditioned for Trinity Laban chamber choir and have been rehearsing twice weekly for various concerts and recordings since. The choir is run by Stephen Jackson who works us hard but gets extraordinary results, I am singing first Tenor in the choir. Some highlights in the first term included a lunchtime concert at St Martin in the Fields and two performances of Will Todd's Mass in Blue at St Alfege's Church and Blackheath Hall. I have a long background of performing with choirs, although it had slipped over recent years. It feels good to be back singing with other talented choristers producing some high quality music. There are lots more exiting gigs coming up in 2017 too so watch this space.
I was also accepted onto the Rubythroat chamber vocal group led by Linda Hirst. We performed Berio's Cries of London at the Bonnie Bird auditorium in the Laban building in a 4th year dance student showcase evening. The project was a challenging one as I have not have much experience with such contemporary chamber music, however I relished the experience and also got to work closely with the dances which was a wonderful experience. I have a great deal more respect for dances and their art having been closely involved in their process to create a new piece of work. I'm happy to say the event was a sell out performance at the theatre and a great success. I'm looking forward to working towards the next Rubthroat project with the other 7 members next term.
2016 at Trinity finished for me with a lunchtime concert organised by the student run Puzzle Piece opera company. This was a great way to end the term and we had a decent audience at St Alfege's Church in Greenwich. 2017 is turning out to be even busier than the first term so watch this space for an update on what I've been up to when I have time to put pen to paper, or should i say finger to keyboard, again.