Learning recit is HARD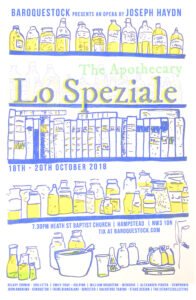 I've just had the privilege to be part of Baroquestock's first foray into the wonderful world of opera. This is a company that up till now has had the common sense to stick to working with small instrumental ensembles! Until this most recent project they have concentrated on bringing extremely high quality baroque music to the beautiful Hampstead village.
With Lo Speciale (Joseph Haydn's unfinished three-act opera buffa, Wiki) they bravely and ambitiously set about fully-staging this opera and added in additional music to complete the work. I'm proud of what we managed to produce in a short period of time. It was artistically satisfying, great fun to perform, and we had hugely enthusiastic audiences. It would not have been possible without the goodwill of all involved including the three other singers Alex Pidgen, Emily Gray and Hilary Cronin; as well as the whole creative and production team behind the scenes.
What it takes to be a good singer and a good performer is a complex mesh of skills that include, but are not limited to:
remembering all the notes (and what order they come in!),
remembering when and where to move on stage,
remembering all the words,
trying to do a bit of acting,
knowing what every word means when you are singing in a foreign language,
trying to sing with a bit of style and panache,
really mean it – sell yourself, and the art,
and through it all trying to be a nice person to work with!
Now to address this post title – Recitative (Wiki). It's crucially important in opera of this period and style. Arias are where the lovely tunes happen but it's within the recit that you can tell a story and it's where most of the interesting acting can happen. But by-jove is it hard to learn!
It must be memorised, and there are a myriad approaches to this. You think about it from when you wake up to when you go to bed. You sing it in the shower. When you drive the car. You record yourself. You get it out on the tube. You annoy loved ones with it. You put off social engagements and you cut off communication for guilt racks you that you should spend that time working on it! It is a huge, daunting mountain that must be conquered. Repetition is the key to success, but it is relentless and all-consuming for a period.
For me, as long as its gone well, you look back on show day and think to yourself… Is that it? My ~15mins of recit just rolls of the tongue. Why was I ever worried!? The feeling of ease is rewarding when you look back at the long hard slog that got you there. That mountain now just looks like a bit of a hill you managed to climb. And when you hear the audience laugh and clap in appreciation you know that it was all worth it. The moments when you think – is this really the right career choice? – are once again buried deep and the thrill of performance is your being and your reason to pick up the next libretto and go through it all again!
And now I'm happy say that I'm a freelance musician, opera singer, classical singer… whatever you want to call it (postgraduate studies officially over!). I used this project to reflect on the career I am beginning to forge. One thing that really struck me was that
Singing is not just a career, it's a lifestyle choice.
I'm enjoying the lifestyle and so far people seem prepared to pay me to sing for them, so – onwards and upwards! It's audition season and how busy I am next year very much depends on the opportunities I create for myself over the next few months. Wish me luck!