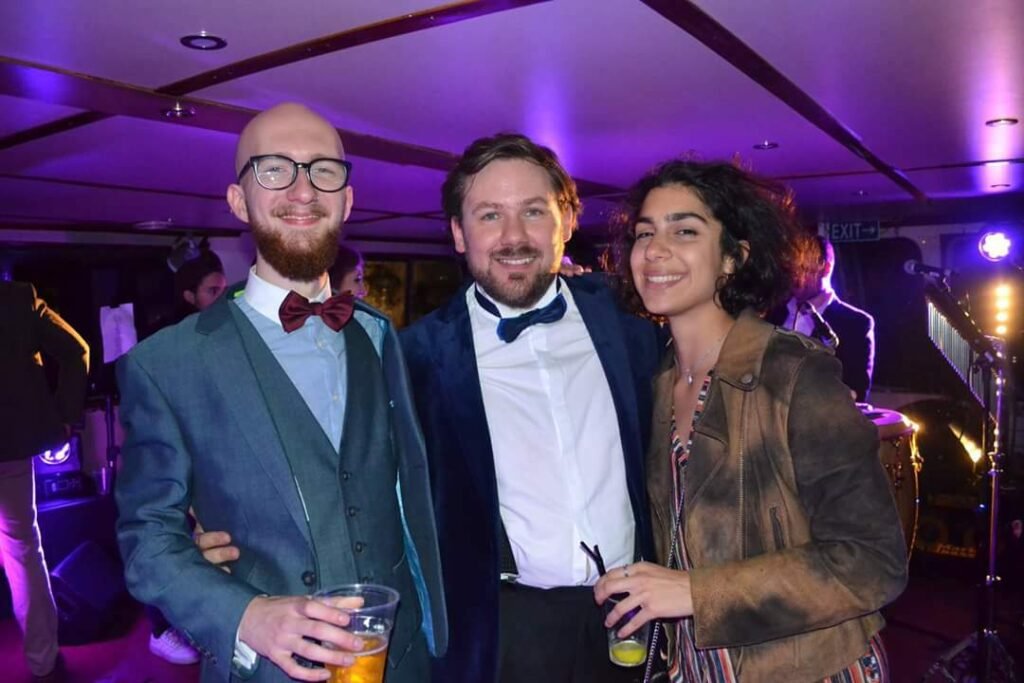 On the 1st of August 2017 I assumed my role as 'Vice President of Music' on the Trinity Laban Student Union team.
Here's a glimpse at what went on during this year's induction and freshers'. Two weeks that are some of the busiest the SU has to deal with all year. Following a week-long handover from the previous team we are thrust straight into the task of arranging a fortnight of activities for students with barely any time to think, and definitely very little previous experience to help us cope with the workload!
Sunday
We've got no time to recover from a gruelling Saturday having been at McMillan halls helping new students move in and handing over their SU welcome packs (with condoms, chlamydia tests, sweets, baked beans, t-shirt and event wristbands) all day. On Sunday, we're back at halls helping whilst trying to arrange one of the biggest events of the two weeks – BBQ night at the Laban building. Unfortunately it's raining and we think the whole thing is scuppered until facilities and security come to our rescue and let us use the ramp at Laban instead of the grass. Hundreds of freshers have a fantastic time. The bar is busy all night, the food is yummy and the dance-offs on the floor are phenomenal! The DJ packs up at the end of the night and we all agree we've got a great bunch of students this year – freshers is going to be exhausting but fun!
Monday
The team heads out to buy bar supplies, helium gas and make deliveries in my car. Tonight is Dirrty Disney night at North Pole Piano Bar. We've booked a DJ again for this fun dress up party and we decorate our private venue with Disney character helium filled balloons and light-up foam sticks. The event goes off without a hitch and after acting as doorman & photographer all evening I finally get to walk home in the drizzle at 2am.
Tuesday
This is 'my' big event! It's the freshers fair at the Laban Building. Planning and organising the fair has taken months to finalise. Making sure every stand has paid their invoice and has all the details necessary to attend is a mammoth job but on the day everything goes swimmingly. Some of the stands I was most excited to have were the ROH Jette Parker scheme, Equity & the MU and at least three London orchestras to name but a few. There was a great atmosphere at the fair and students seemed interested in what we had to offer. Another success!
Wednesday
Today, some positive reviews came in from an opera project I had been working on in Leeds a few weeks previously. A lovely way to start the day! This was swiftly replaced by the dreaded recollection of planning the evening's freshers' event – the annual bar crawl! Despite our best efforts to put everyone into even teams I somehow ended up with about 50 MT students on my team. We went around sampling Greenwich's finest pubs and had a riot.
Thursday
With so much to do to ensure both weeks run smoothly the whole SU team has to work together seamlessly. We are very lucky this year that we all get along so well and get stuck in when things get tough. With four events out of the way but 10 more still to go we were feeling the pressure by now. We persevered to run the quiz night planned for the evening and yoga class during the day.
Friday
One of our big budget events was the Casino Night at Blackheath Halls on this evening. We had professional croupiers with a variety of casino tables and a live jazz band from the hugely talented Ben Vize Sextet.
I am very proud to hold my position on the SU. Of course freshers' is the one time of the year when we get to be party planners. The rest of the year is nowhere near as glamorous and the team and I work on student welfare, academic and fundraising issues which are just as satisfying.